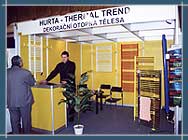 The Hurta-Thermal Trend company was founded in 1990 as the first producer of bathroom radiators in Czechoslovakia at that time. At the beginning we supplied our products to panel body producers (e.g. Korado in Česká Třebová) who wanted to enlarge their production program. At present we are a supplier of wholesale and special shops with heating sales line.
The company office is located in the town of Hustopeče in the South Moravia. This town is about 20 km south of Brno.
Our production program is specialized in bathroom radiators which can be connected to a heating system (a new or an old one) or used in combination with an electric heating bar (electrical output of 300-1000W).
The decorative heating bodies are produced using a modern technology which guarantees perfect and good-looking welds. The radiators are usually available in twelve sizes and two types of design. It is possible to change the parameters. For surface treatment, powder paint RAL 9003 WHITE is used.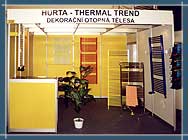 Great advantages of our company is short time of delivery, favorable prices, choice of different RAL shade or a sanitary paint (at extra charge). You can also have the radiators in chrome design. Plastic or metal holders (according to the type of radiator) are included.
Our company regularly presents its products at Aquatherm Trade in Prague.
All of our products are certified.